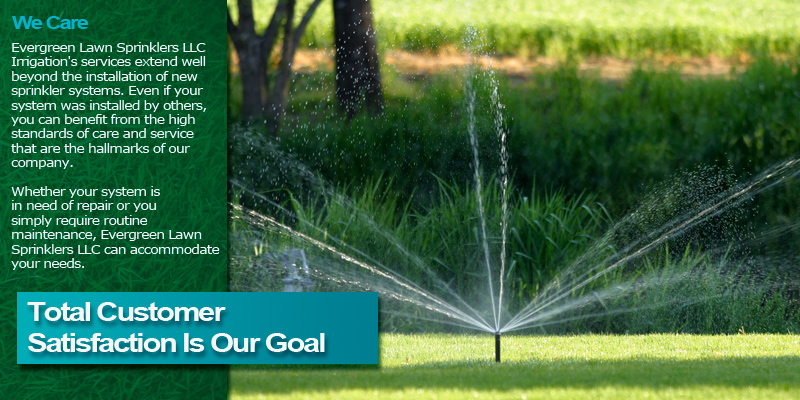 With today's busy lifestyle, the best way to keep our lawn healthy is to install a reliable sprinkler and irrigation system. These systems keep your lawn green, saves time, and ensure proper water coverage.
We have the expertise and skills to work with all kinds of irrigation systems. Contact us today to know how we can help you.
We check your system at the start of the season by turning the system on, adjusting heads as needed, and making a note of any adjustments that need to be made to get the irrigation systems up and running correctly and efficiently. Our services are not limited to our existing customers; the same services are provided to new customers.
Certified
Installation Systems
Evergreen Lawn Sprinklers LLC provides a professional irrigation system. All of our installed systems meet or exceed all local and state codes. Using the latest techniques, Evergreen will provide proper water coverage for all types of landscapes.
Evergreen Lawn Sprinklers LLC services and repairs all types of backflow preventers. A backflow preventer prevents contaminants from entering the water supply. The state of New Jersey requires a backflow preventer on irrigation systems. If your irrigation system does not currently include a backflow preventer, it can easily be added.
Drip irrigation provides plants with a direct and specific watering schedule. The soil takes in the water directly when the drip method is used. This ensures the plant's roots get enough water. Drip irrigation that is installed in a mulched landscape will stay moist longer and require less water. If your irrigation system does not currently include any drip systems, they can easily be added.
Evergreen Lawn Sprinklers LLC installs and services all types of sprinkler heads. Many different types of heads provide specific watering for the application at hand. Rotary heads are used to provide watering for large areas such as grass. When installing sprinkler heads, Evergreen Lawn Sprinklers LLC uses a method called Head to Head Coverage.
Head to Head Coverage provides the area with even water coverage. Spray heads are used in close areas to provide direct and constant mists of water. Mist sprinkler heads can be adjusted to travel from 0 degrees to 360 degrees. They provide flexibility in watering specific landscapes.
Rain sensors cut down on the waste of water. They tell the system to stop watering when a sufficient amount of rain falls. It will signal the system to resume when the sensor drys out and scheduled program will resume when the landscape requires water.
Winterizing or closing the system is an excellent idea to help protect your system in the chilly months. Due to the winter weather, sprinkler systems must be drained of all remaining water. If a system is not winterized, it runs the risk of freezing and breaking crucial parts of the system. By closing the system and draining it of water each year, we eliminate the risk of the system freezing. We can perform this service on all types of sprinkler systems.
We also offer these services
We use a Ditch Witch vibratory plow that pulls the pipe (up to 2" in diameter) under the ground. There will be some damage and scaring with any procedure depending upon ground conditions at the time of installation.
If the ground is hard and dry without water for an extended period, there will be more damage. (Don't let anyone tell you that there will be no damage). The design is one of the essential parts of the system.
Ensure that you are using the same type of head on the zone. You do not want to mix different heads, sprays, and rotors in the same zone. Also, make sure that you are watering certain hydro zones.
In designing a system, we try to set it up to make service and repairs as easy as possible. We plan to design the system further for future expansion.